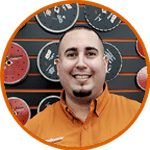 Judd Garza
Houston Branch Manager
Houston Store
13230 Hempstead Hwy
Suite #300
Houston, TX 77040
Toll Free Phone: 888-791-0400
Local Phone: 832-467-0400
Local Fax: 832-467-0015
In-store Representatives: Federico Solíz, Hilda Rubalcava.
Store Hours:
Mon-Fri: 7:30am - 5pm.
Sat-Sun: Closed.
Same Day Delivery Service From GranQuartz! What You Need, When You Need It!
We know that you and your team can't always take time to leave the shop for the supplies you need. GranQuartz will now deliver! We have partnered with FedEx, the leading delivery service in the country, to ensure your tools and equipment are delivered securely, and fast! All shipments are trackable, with proof of delivery.
Just call us by 1:00 p.m. and we will have it to you the same day. Additional charges apply to same-day orders after 1:00 p.m.
Call the team 832-467-0400 at the GranQuartz Houston store to learn more!